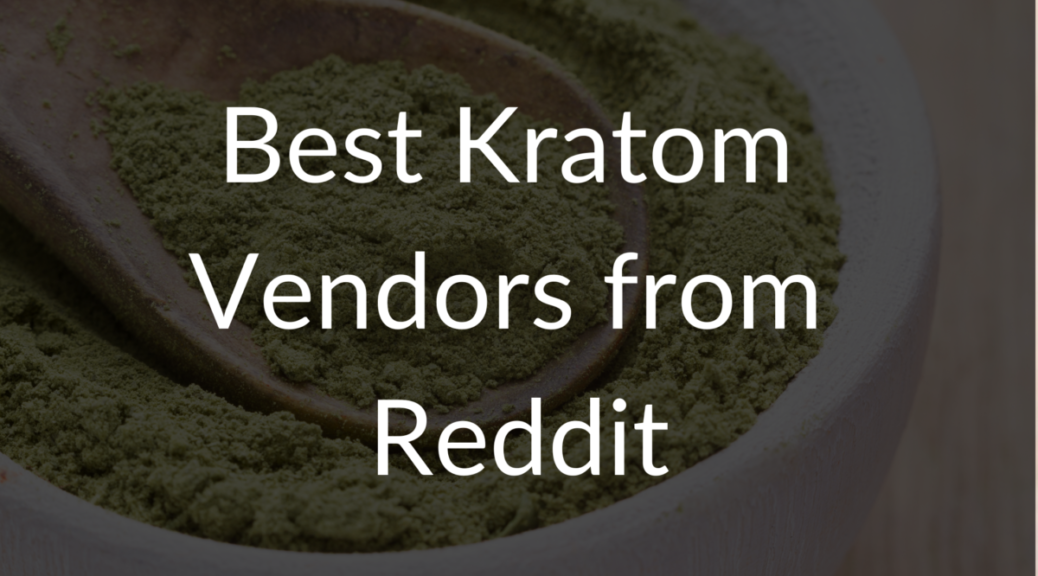 Best Kratom Vendors from Reddit
Best Kratom Vendors from Reddit
With kratom getting more popular, it's gained a huge community of devout users. You can find tons of communities and forums online with people discussing kratom. Since it's such a diverse plant, there are many tips and tricks that people share with each other. From strains to top vendors, you can find almost all the anecdotal information you need online. Arguably one of the most popular places to discuss kratom nowadays is on Reddit. If you don't know what Reddit is, it's a type of forum that has communities on various topics they call 'subreddits'. Reddit users or 'Redditors can post links, videos, or text related to kratom subreddits. The more posts or comments are upvoted, the higher the post goes. It's a great way to find information that is widely agreed upon by many kratom users. Various people will do DD or due diligence on strains, vendors, blogs, and more. Reddit is a valuable place to find the best kratom vendors according to people's personal experiences and research. Here we'll go through some of the best online vendors according to Reddit from 2018 to 2021.
1. Kratom Spot
There's a subreddit called r/kratomvendor that used to be a hot place to discuss different kratom vendors by Redditors. It's died down a bit now but that doesn't mean that some of the information isn't valuable. According to this subreddit's community guidelines, they recommend KratomSpot based on where they have personally ordered from. Generally, the people who moderate these subreddits are well versed in kratom and can be trusted. However, we always recommend doing your own research. Along with their recommendation, a Redditor made a long DD post on Kratom Spot that details their experience. This post made by a Redditor that was updated in 2020 states that they have a wide range of extracts, powders, and capsules. They also say they have fast shipping as well as affordable pricing. Not only do they have great pricing and shipping, but KratomSpot is also transparent with its location and contact. They are based in Orange, CA, and have a direct phone number for customer support. If you've ever bought kratom online you know that many places can be difficult to get a hold of. KratomSpot offers a 100% refund for any customer who is not completely satisfied as well. According to Reddit, this is one of the best vendors online that you can be safe to try.
2. Mitragaia
You can't go on kratom subreddits without coming across Mitragaia at least once. Many avid users have tried Mitragaia and have recommended it as one of their top vendors. What makes them unique is that they are always consistent and compliant with the law. They measure to asses the GMP or Good Manufacturing Practice. This is important for any users who are looking to make sure they get high-quality product. Not only are they compliant, they also have a wide selection of strains, samples, and tablets. Yes you read that correctly, they are one of the few vendors that actually sell kratom tablets. We haven't found any information on reddit regarding their tablets however it is nice to go to a vendor that has options. What makes them one of the best vendors is that they have a point system. If you're a consistent user, you can get discounts when you buy more kratom. They also have over 22,000 likes on Facebook. This is huge social proof that they are a reputable vendor across the board. Don't just take our word for it, check out their site and try them today.
3. Happy Hippo Herbals
Since 2018 this vendor is regarded as one of the best vendors according to reddit and many kratom forums alike. Happy Hippo Herbals has some of the top strains and qualities of kratom on the market. They are usually the first kratom vendor people buy from due to their friendly looking branding. Happy Hippo Herbals are also known for their fast customer service due to them being a family business. Most vendors are big corporations that either care little about customer service or don't have any. One negative is that their pricing can be a bit higher. If pricing is less of an issue for you and you'd like higher quality product with great customer service then happy hippo herbals might be worth taking a look at. They also allow various types of payments such as credit card, ACH, and even popular cryptocurrencies like Bitcoin and Ethereum. There have been a few accounts on reddit of people saying different strains vary in strength but this is consistent with most vendors. They have samples as well as energy shots if you want another great way to take kratom.
4. New Dawn Kratom
Many users on Reddit are reporting that New Dawn Kratom is their new favorite vendor. One post made in January 2021 has 7 upvotes but 124 comments regarding this vendor. The majority of the comments seem to be positive in terms of customer service and quality. What alarms us is that some of these Reddit users may be bots or paid comments. At face value, however, a lot of the comments seem thorough, well-written, and detailed. We believe that they are one of the best up-and-coming vendors based on community discussions on Reddit. Customer service seems to be the reason Redditors are raving about this vendor. Many mention that their customer service seems to be extremely responsive. As we mentioned before, this is huge in the kratom community, especially with online orders. Secondly, their prices are extremely impressive. They're probably one of the cheapest vendors according to Reddit. For nearly double the quantity, you are paying nearly half as much as some other vendors. It's not a clear cut winner when it comes to deciding who's the best but it sure adds a lot of value especially when some users need a higher dose or use  it more frequently. Last thing we'll say is that a representative even went so far as to comment on this post. That goes above and beyond most vendors we've seen in the past. We recommend checking them out and seeing if the hype is real!
5. GoldenMonk
This is a vendor that we see getting mentioned pretty often on Reddit. They are undoubtedly one of the biggest kratom vendors in the market. Across various forums, coupon sites, blogs, and more you can find them being mentioned. Aside from seeing their marketing across the web, many users report that they have great quality. They are third-party lab tested which gives ease to many users. Golden Monk is recognized as one of the best kratom vendors because they are a part of the American Kratom Association GMP program to make sure that all their kratom powders and capsules pass standards before being sold. Redditors also report that they have gotten their shipments quickly. This will vary depending on where you are in the world or the U.S. but they do same-day shipping on orders before 10:00 am based out of Las Vegas, Nevada. If you're constantly looking for great deals, Golden Monk has a reputation for consistently doing sales around the holidays. At the time of writing this, they gave 15% to all their customers for Easter weekend in April 2021. Not a bad discount considering they already have great prices. Across the board, Golden Monk seems to be a top contender when it comes to kratom. For great shipping, quality, prices, and customer service, Golden Monk is a great choice!
Notable mentions
If you've spent a little time on our blog, you may have seen Apex Kratom mentioned a few times. While we're not huge on Reddit or as big as these other companies, we value high-quality kratom. As avid users ourselves we believe have the credibility when we say that we are one of the best vendors on the market! Since we're still small, we give every order 100% of our attention. We take great pride in being able to tend to each customer with all of our attention. Apex Kratom is a small family-owned business that believes kratom can be a life-changing plant to heal many ailments. This is why we spend so much time giving out free content on this blog to help inform and guide people to use kratom safely. Not only do we care about customer service, we care about affordability. We have free kratom samples of all our strains! All you need to do is pay for shipping and you'll get 10g in the mail with no issues. We're confident you'll want to come back. If not, there's not much you'll lose besides shipping. We offer powder, capsules, and bulk pricing of all our strains. Try us out to see if we can be your one-stop-shop for all things kratom! If you like us, tell others on Reddit that you think we're the best vendor or a great vendor to try.
Kratom Subreddits
https://www.reddit.com/r/kratom
https://www.reddit.com/r/KratomVendor
https://www.reddit.com/r/Vendorsofkratom
https://www.reddit.com/r/KratomKorner
$8.99 – $129.99
Show product
$8.99 – $129.99
Show product
$9.99 – $32.99
Show product